shown here for the first time! I went through my scrapbook and took photos of some layouts so I could repost them in the right size on my blog. So now when you click on the layouts label on the right side of the screen it will bring up all the posts of my layouts and hopefully I have most of them resized (still have a couple to do!)
Since I was taking photos, I took some of layouts that I had done before I started my blog. I apologize for any glare . . . I was in a hurry and taking lots of photos so I didn't take them out of my album!
This was a cowboy camp that my 5 year old made in our living room. He had his horse tied up (you can see the rope tied to the footstool!), and all his "cowboy gear" stashed by his sleeping bag underneath the chair. He made a little sign that said "Josh's Cowboy Camp" which I saved and folded behind the bottom photo on the left page (has all the ribbons attached to it so you can pull it out).
This was my youngest son's 2nd birthday . . I love this layout!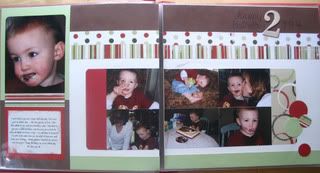 This is Josh at the beach during a camping trip to Salt Creek (one of our favorite camping spots!):
And this is sweet little Joey, who will turn 3 in less than a month - wow!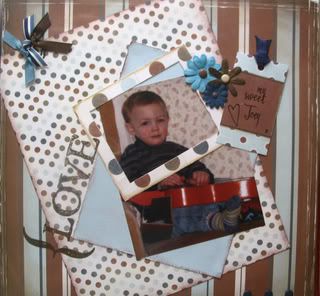 I'm still working on getting a couple other layouts resized (they are just in a different scrapbook). I'll try to get them reposted today! Thanks for stopping by!