here are the 2 layouts I did last night. The first is (obviously) my little boy's first haircut! He had the cutest little curls in his hair . . .it was so sad to get it cut the first time. Luckily those little curls come back whenever his hair gets long enough! Such a sweetie . . .
(These were a set of stickers I bought a long time ago so I wanted to use them!) Sorry this one is blurry, not sure why. I photographed both layouts at the same time and one was blurry and the other wasn't, hmmmm . . .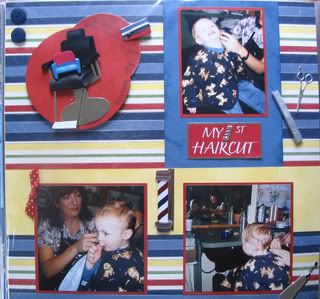 I love to tuck my journaling underneath something on my page . . . as I did here . .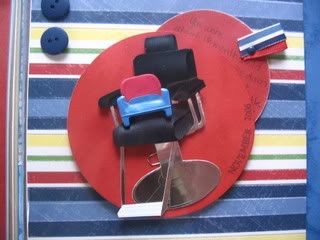 The second layout was a wedding photo of my DH and I. The picture was taken by my SIL's best friend (a professional photographer). I had to use Silhouette, of course . . it just screams wedding, doesn't it?!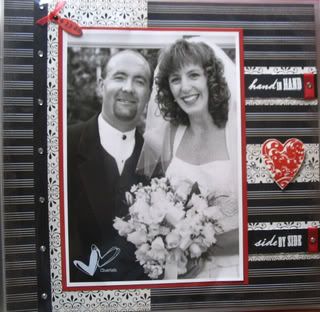 I clear embossed the heart and popped it up and I embossed "side by side" and "hand in hand" in white. Decided to add the rhinestones along the edge (it's a wedding . . . ya gotta have some 'bling'!) and, because I didn't want to 'clutter' the page anymore I just added the dimensional element photo clip, sponged it with cranberry ink and stamped our wedding date on it in black.
I'm real happy with this one! :-) Isn't he a cutie patootie?!?! mwah!
Oh yeah . . and I finally pulled out the current cc reward rubons . . . and used the 2 hearts on the bottom corner of the photo . . .