As promised, albeit a little later than I intended, here are the photos of my new scraproom. Well, not really new, but newly redone. I'll take you on a photo tour around the room. The wall as you come into the room (still need to replace those 2 pink storage bins on my bookshelf with black ones):
Two photos of my desk space at the large window (notice the cute cute black and white shower curtain I bought to cover the closet):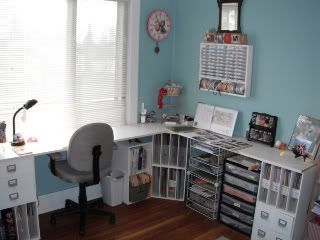 The west wall of the room . . the old desk I painted black to match the black theme and my favorite redo . . . my oh so cute bench seat (see below for the makeover photos of this cutie as well as the desk):
To recreate my space, I purchased some more white cube storage pieces, repainted and added some great black pieces I got on sale at Joanne Fabrics. I repainted some furniture pieces and voila! I LOVE LOVE LOVE my new space. Here's a shot of the before . . .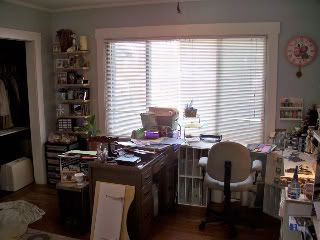 it was so cluttery and messy I couldn't stand it (this looks especially messy because I was painting in the opposite corner of the room, so all of the things I had on the wall were cluttering up my craft desk even more). I decided to 'hide' as much stuff as I could (in my new white cubes and reorganized closet) so that my room always looks neat, clean and crisp. I completely reorganized my closet and it's much more user friendly now as well.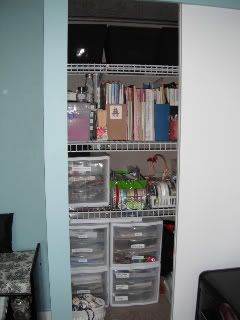 I purchased this old entertainment center at a thrift store a few years ago, painted it red and had it in my boys' room for toy storage. Recently, I moved it to my scraproom and painted it blue, as seen here.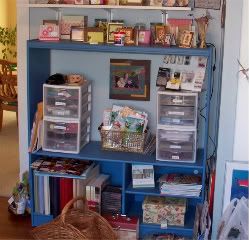 When I was recreating my scrap space, I asked my sweet husband to cut the sides off for me, I painted it black, bought some high density foam and recovered it to match the curtain covering the closet . . end result:
Here's a BEFORE photo of the desk: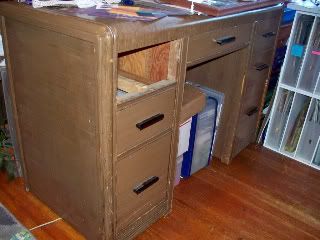 My first attempt at painting the room . . .
I used a piece of Sweet Leaf cardstock to have them match the paint because I love that color . . but it didn't work so well on the wall . . . kinda actually made me feel queasy when I sat in the room . . . lol!! But it all came together for me . . . I LOVE IT ALL! I have had so much fun using my new space over the last month or two. I'm eyeballing a couple of more storage cubes to replace some of the cluttery junk under my desk space and then it will be complete! Ahhhhh . . .I love the color as well . . it is a Better Homes & Garden color called
Sanctuary
. . how appropriate is that!! Tell me about your scrapspace . . . I love to see other crafter's ideas and how they organize their spaces. Thanks for stopping by . . .