Kim, over at
Clearly Inspired
, nominated me for this fun award! Thanks, Kim! You should check out her great blog!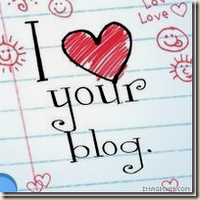 It's so fun to see regular viewers on your blog . . . you start to feel like they are friends, even though you have never met them. Kim is one of those blog friends and her work is worth checking out!
So, the rules for this award are as follows:
* The winner can put the logo on her blog
* Link to the person you received your award from
* Nominate at least 7 other blogs
* Put the links of those blogs on yours
* Leave a message for the bloggers you've nominated
It's hard to pick just 7 great blogs, but I will try! In no particular order, the blogs I want to nominate are:
My Paper Haven
, one of my latest blog discoveries
From The Heart
, a great CTMH art gallery!
JenTapler Designs
, sweet, fun creations!
Poppy Paperie
, absolutely beautiful work and great project ideas!
Paper Prozac
, you know you love the name and I know you'll love her creations!
My Life Dot Com
, a fairly new blogger, but an extremely creative CTMH gal!
So Many Colors, So Little Time
, she makes the MOST adorable cards!
Thanks again, Kim! And if you've got some time, sit back, relax and check out these great blogs! They are all so much fun! Have a great day!