Before I became a CTMH consultant (one year ago!) a group of us used to have regular SU parties. We would take turns hosting a party and did about 4-5 a year, sometimes doing cards and, as we started to wind down our parties, we were doing more layouts. A friend put together a layout for me at a party I missed (going on 2 years ago!!). I never knew what to do with it . . partly because the heart on the layout used to look like this . . . (it's not bad . . . but didn't go well on the layout at all - IMO!!)
I never liked the look of it. So today I was thumbing through my photos and found some engagement photos of my husband and I from summer of 2000 (we married in Sept. 2000). I RARELY scrap anything other than my kids . . . so this was going to be fun! I started off by tracing the ugly blue heart onto CTMH sweetleaf cs and then ink distressed it and sanded the heck out of it (and slightly wrinkled it in the process) . . .voila!!! Here is the layout . . . it's one of my new favorites!
It was the perfect opportunity to use my new word puzzle stamps (friendship and soulmates) from CTMH (I LOVE THESE STAMP SETS . . . they are sooo versatile!) and . . . my husband gave me this ribbon as a stocking stuffer 2 years ago . . . who knew it would all come together?!?! :)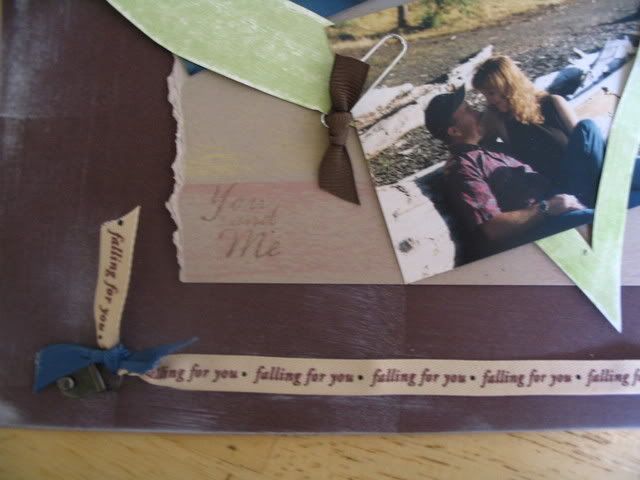 I am soooo happy with this layout. It is so unlike anything I would have done. I really need to branch out more . . .get out of my box every now and then. I also think it's fun to come back to photos after a long time . . . it makes you see them in a whole new light! I love these photos and these memories!