This is what we woke up to this morning . . . my backyard . .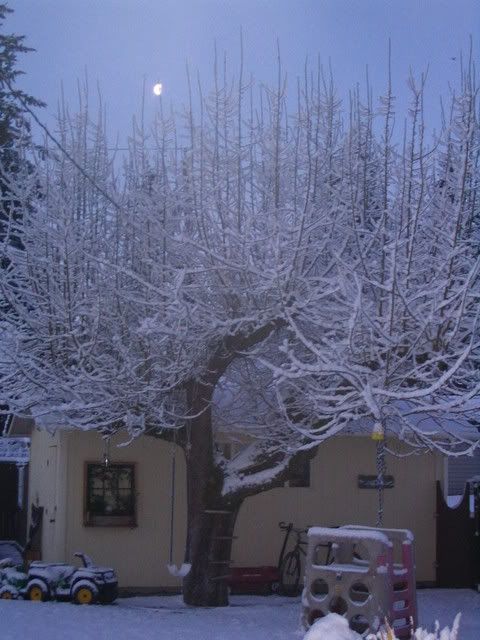 I'm sure it doesn't seem like much if you live anywhere east of Seattle, Washington . . . but it's enough in our little town on the peninsula to close all schools in the area. I think we have about 3 inches in our backyard. It's our first real snowfall of the year.
The funny thing is that yesterday morning we woke up to the ever-so-slightest dusting of snow . . . it was just enough to make everything look white . . . and as soon as my kids woke up they donned their snow pants, mittens, hats, coats and braved the elements! They played in that dusting of snow for over an hour. As soon as the sun came up it was gone! They scraped the 'snow dust' off the picnic table to make a snowball, they made snow angels on our back patio, which actually turned out great considering there was not even enough snow to measure!
So, they're really happy this morning. They just got up and are already outfitted and playing outside with the neighbor girls (and it's only 8:00a.m.!!)!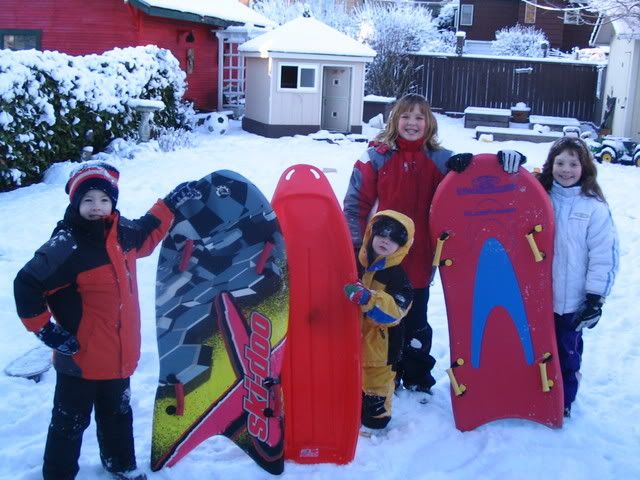 So . . . . do you know what this means? Yep . . . it means the kids will be playing outside ALL day in that wonderful white stuff and I can scrap!!!!! Thank you, Mother Nature!!