Well, I only got 3 photos taken before my batteries died on my camera . . so here they are, and I'll take the rest tomorrow after I get new batteries!
Playtime at Elk's Playfield (CTMH cs, ink and alphabets, Jolee's stickers, chipboard from Joanne's):
Fish-on (all CTMH except the little saying card that I got at our lss):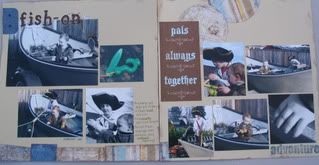 Joe's 1st ice cream (LOVE this one!!!) All CTMH except the ice cream cone that a friend gave me at camp this weekend :
This is the first time I've used the CTMH library pockets (for my journaling) . . .LOVE THEM!
One of the ladies at camp had a GREAT sketch book by Becky Higgins . . have you seen this book?!? Jody and I kidnapped this book for most of the weekend . . . some great sketches for layouts! Most of my layouts from this weekend came out of that book . . a couple came out of Cherish and/or Imagine (CTMH).
That's it until I get new batteries in my camera! Enjoy . . .