Here are a few cards I've made in the last day. One of them was cased from Vicki Wizniuk (a fellow CTMH consultant) and the other two were created using SCS sketches (tweeked just a little). Sure makes it easy when you use those SCS sketches . . .lol :-)
Here's one using all CTMH (except the polka dot ribbon). My first creation using our new Big Blooms . . .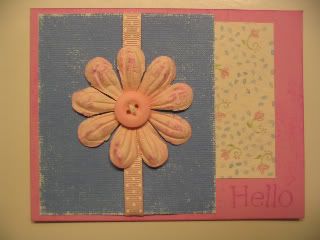 Here's the one cased from Vicki . . . I used my Quickutz purse die for this one and Caprice papers (CTMH):
And, finally . . . another cutie using Caprice and CTMH's Thing of Beauty stamp set. I just think these 2 go together so well . . .