Ok . . finally got these photos uploaded. I rearranged my scrap space about a week ago and here are the before and after photos . . . my space is arranged in an L shape around the bed in our spare bedroom:
BEFORE:
I had my large table by the window, but never really felt like I had a good work space . . everything was spread out . . .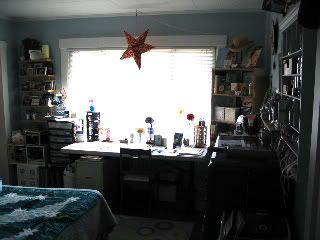 I had my husband build a wood block to raise my desk up so I had a cutting area that I could stand up at . . . still no good working space . . .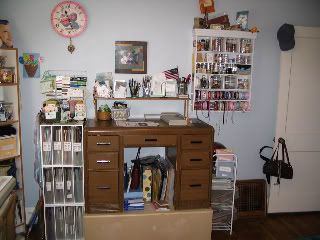 My stamps and misc. junk were stashed on my bookshelf in the corner and my CTMH paper is stored in the white cubes:
Misc. accessories are stored in these drawers and my inks were on the far wall - away from my desks . . . (at one time my desk had been underneath these shelves so ink was more convenient):
These old Ikea shelves held mainly photos: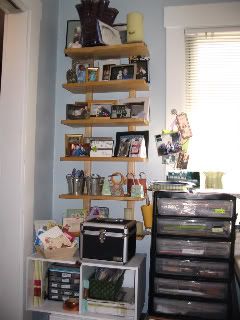 More storage . . . my contraband papers are mostly stored in these pull out drawers, along with all of my scraps . . . my albums etc. in the wire cubes . . . ugh!! Such a hodgepodge . . . IT DROVE ME CRAZY!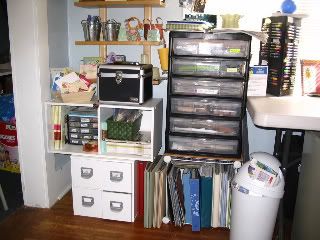 AFTER:
My small desk is now in front of the window (and off the block my husband built for me!) with all of my papers TOGETHER to the left. I'm getting 2 more white cubes this weekend to replace the drawers (that are falling apart because they're overstuffed!). . .then my little shelf will sit level on top of it.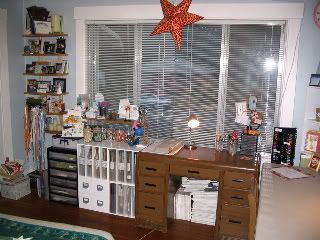 Some of my ribbons, flowers, raffia, chipboard, etc. are stored in these old jars that sit on my white cubes in front of the window . . . I'm an "out of sight - out of mind" type of person and if I can't see my stuff I forget I have it . . .so these jars are great for keeping stuff in my sight!
My larger table is to the right with BOTH of my storage shelves above it and EASILY ACCESSIBLE . . . .
these are the shelves that hold my stamps, ribbon and misc. embellishments :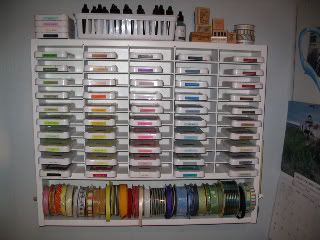 and, finally . . . my bachelor's degree from CTMH training program . . just had to embellish it a little! LOL!!
Finally . . . a space I actually enjoy sitting down and working in . . . still have a couple of things I want to do as far as organizing papers, etc. . . but it's the best use of the space I've had so far and I'm very happy with it! Hope you enjoyed the photos and hope you enjoy your space as much as I'm enjoying mine!