Hope you all have a great 4th of July . . . we are heading to Ocean Shores for a fun filled camping weekend with some friends! The nice warm weather we've been having lately feels SOOOO GOOD! Can't wait to get to the beach! Here's a few photos from last year's trip to Ocean Shores . . . isn't it GORGEOUS . . . yeah . . . my sweet little boy is pretty darn cute too!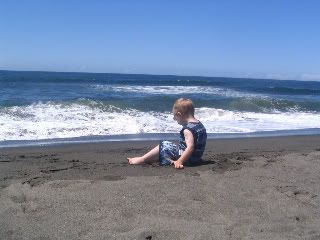 I just got some fun new stamps during the CTMH Stampaganza and can't wait to use them when we get home . . . so look for some new creations next week and SCRAPBOOKING BINGO!
Have a safe and happy 4th . . .