I made these cards last night . . . I think I have Thailand on the brain! I've been favoring sunny, warm, beachy themed cards lately! Maybe because summer hasn't started in my neck of the world . . . dreary, cloudy days with temperatures still hanging in the 50's . . . YUCK!
I'll have to start a Thailand countdown in my sidebar! LOL!!!!
Anyway, enjoy the cards . . . . .
This one uses all CTMH product: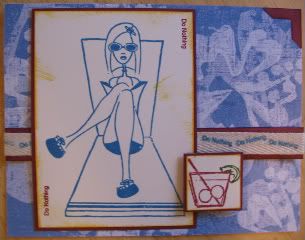 I just bought these cute little
Making Memories
brads and had to try them out!
And this one is not beachy, but I bought this paper at the new scrap store I discovered and had to try it. It comes in a 12x12 sheet and there are 2 each of 6 different "seed packet" type designs on it. I thought it was so cute and I think the card turned out just how I was imagining it. This the first time I've used my SU! Spiral Punch . . I love that punch!