Here are the cards I made for Josh's kindergarten teacher and his piano teacher . . . Only one more week of school . . I can't believe it!
This one didn't really turn out how I wanted it to . . . but it's okay.
I love this one. I cased this one from SCS, but used a tag card I've had in my stash for years! It sure feels good to go back and use some old stash, doesn't it!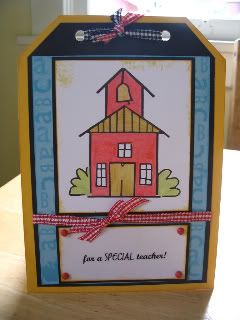 And this is just another thank you card I made . . . I thought it turned out really cute. I rarely use my SU tag stamps, but they sure are cute!