Well, I've finally been able to make some time (steal some time is more like it!) to play around with some of my new products. Just got my Silhouette paper (Creative Basics) from CTMH and I LOVE LOVE LOVE this paper! It is so perfect for Valentine's Day cards. . .looks so nice with black and red! Here are a couple of cards I made this morning:
Thought Orchid Bouquet looked nice with the black on this one (scraplifted this one off the CTMH bb - thank you!!):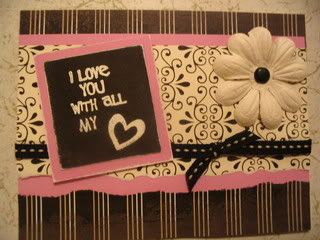 I really like the red glitter on the heart on this card . . . I love playing with glitter but it makes such a mess! Probably would have done the red rhinestones on the bottom corner differently, but I was trying to cover up an "oops"! Oh well . . it works, I guess!
I don't know if you can tell or not from the photo, but I embossed the hearts on this one and then tried stamping on our (CTMH) twill ribbon ~I really like how this one turned out. I think I might try this card again and use white embossing powder on the flourishes . . might make them stand out a little bit more.