Yeah . . my bellas came in the mail the other day and this is the first chance I've had to sit down and play with them! I was so excited to make something with them . . .these are my first attempts. I'll post more when I've got time to put more thought into them . . but these stamps are so cute! Let me know what you think. I had to use my stickles and some "bling" on all of them . . they just scream out for "bling", don't you think?
"Winobella"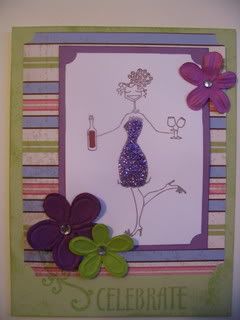 "Cosmobella"
"Bubblebella"
If any of you want check out all of the fun bellas, the website is
http://www.stampingbella.com/
They are just too much fun! Happy stamping!