is a great walk in the woods! My SIL and her kids were here in May and we took this walk for the first time. So very cool! There is so much to see and if you aren't paying attention you'll miss things. Anyway, here's a layout I did today. I used Rustic Trails (stickease), Lazy Days (green B&T), Free Spirit (stripe) and Giggle Caps. The strips from the Rustic Trails stickease were a last minute addition, which meant I had to go back and add some goldrush to tie the rest of the layout into the strips. But I really like the way it turned out.
We took this walk again at Thanksgiving when my sister and her family were visiting and it was fun to notice some of the new additions during our walk! Enjoy your walk through my layout!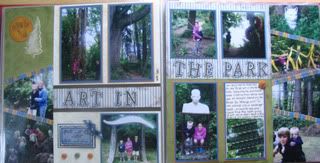 The kids loved the "shirts" . . although we thought they were kinda creepy!!
The rings around the trees were very cool . . . amazing how they can get some of that (heavy!!)stuff so high up in those trees! Sorry . . . I have tried and tried to shrink this photo and it will not get any smaller . . . :(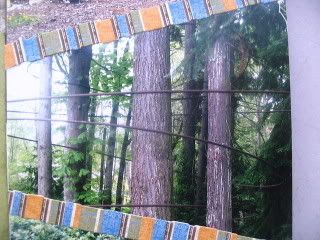 Here are the kids goofing around by one of the sculptures!