Sorry I haven't posted in a while, I had forgot my photobucket password and just got it figured out!
Here is a card I made for a party the other night using the little snowman from CTMH's Homeward Bound stamp set and Festive Thoughts. The paper is also CTMH - Aspen Lv. 2 paper pack. Enjoy!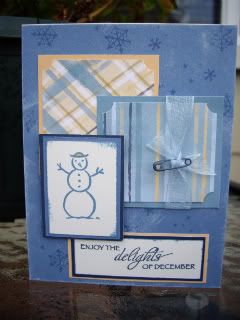 This is one of the little treat bags I made the some of my boys' friends that came over on Halloween. I forgot to get a photo of the girl Frankenstein's . . . I'll try to get one and post! They were fun to make and soooo easy!