Here is a photo of my little superheros on Halloween:
My 3 year old was Batman and my 6 year old was Ironman ~ aren't they adorable!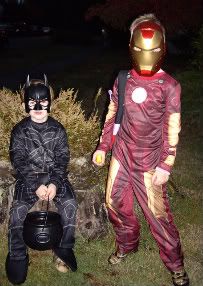 The day after Halloween, we went to visit Santa. He is such a fun Santa . . . this is the first year that Joe actually sat on his lap willingly (although you can see he is pulling a little to his right - away from Santa!)!
Hope you all had a great Halloween with your kids! We had 11 kids (and their parents (our friends!) over before trick-or-treating to have pumpkin pizza. It was a lot of fun and something we've decided to do again next year and maybe every year! Here's a photo of most of the kids in costume in our front yard (4 of the kids weren't there when I took the photo and then I forgot to get another one when everyone was there!):
Have a good week!