Made this cute Father's Day card for my husband . . . thought he'd get a chuckle out of it! First time I've used my Sarsparilla paper . . . might just have to order another pack of this stuff . . it is sooo stinkin' cute! Enjoy!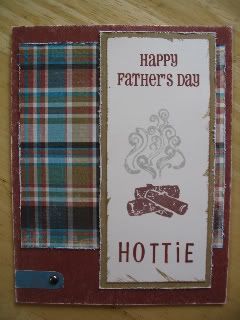 I think my "slump" is just due to the fact that I don't have time to actually play and create . . . I'm always rushed to finish a project or come up with cards, etc. I actually took some time yesterday to just play around with Sarsparilla . . . with no idea of what I wanted or what I was going to end up with . . . that's how I need to go into all of my projects . . . I think the outcome is always better when I work that way!
Have a great weekend!