It's Spring Break here and we decided to take our trailer out for a night and break it in for the summer! Kind of a trial run to make sure we don't forget anything when we go out on our annual Memorial Day Weekend camping trip!
This is the first time we've gone camping during Spring Break. Usually, the weather is halfway decent . . . starting to warm up . . you know . . . campable! Well, this is what the weather was doing the day before we went camping . . .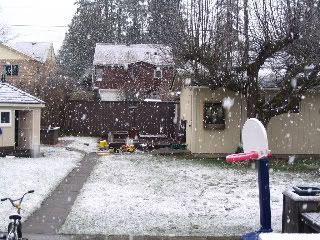 OMG!!! We changed our original plans (camping for 3 days on the beach at Fort Flagler!!) and decided to go out to Salt Creek (closer to home!) for just one night. It turned out to be BEAUTIFUL . . . a little chilly, but beautiful clear blue skies and QUIET (until we got there!). I guess the snow the day before had scared the weaker souls away!