I finally got a chance to sit down (over the last couple of nights) and create a chore chart for my oldest son. He is 6 and, although he does help out when asked around the house, I thought it was time to give him some designated chores.
He has been watching the progress of this creation and is actually EXCITED!!! about having a list of chores to do! He was most excited about feeding the cat and making his own bed! Imagine! Let's see how long the excitement lasts when he's actually expected to do the chores . . . lol!!
Josh will get a nickel for every star he completes at the end of the week. If he does everything on the chart, he will get $2 a week. Keep your fingers crossed! ;-)
So, here is the chore chart:
I used adhesive velcro to attach the chore chart to the fridge, to attach the box of stars to the fridge and on the chore chart itself for Josh to attach the stars to the chart as he does his chores. I chose to use velco (because I had a lot left over and) because magnets are always "falling off" (hmmmm . . . ) our fridge!
Here are some other photos (with and without the stars attached)
Here's a close up of the chores and the stamping I did on the top corner: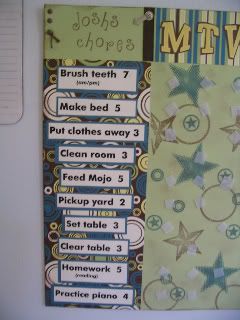 The numbers beside the chore indicate how many days a week he has to do that specific chore. I went ahead and chose the days and just put velcro on those days. For the most part, he gets weekends off! :-) (Thanks, Mom!)
and here are the directions:
1- 12x12 sweet leaf cs
1 - 2x8 patterned paper (top piece)
1- 4x10 patterned paper (side piece)
- Adhere the patterned paper to the top and side of the base cs.
- Ink edges all the way around the 12x12.
- Type list of chores on computer and print directly onto colonial white cs (cut to 8-1/2 x 11) (my list was done in the ScholBroadway font, size 26)
- Cut individual chores out and adhere to twilight cs. Adhere to chore chart.
- Stamp days of the week (initial caps) in buttercup ink onto buttercup cs and cut out (I used Giggle Caps). Adhere to chocolate cs and trim again.
- Adhere days of week initials to top portion of chart.
- Stamp child's name on top left corner and attach embellishments. NOTE: make sure you stamp first before adding any brads . . . the brads may get in the way of the block and affect your ability to stamp a clean image.
- Random stamp stars and circles on main portion of chore chart. I also lightly sponged a little bit of chocolate ink all over the main portion after I did my random stamping.
- Connect the velcro pieces to each other (I left my velcro pieces connected until the end . . it's easier to cut and adhere if you leave them attached to each other!) and cut them into (approximately) 1/2" squares.
- Stamp small stars (I used chocolate and twilight ink) onto colonial white cs and use 3/4" punch to punch each one out.
- Adhere velcro to back of stars (velcro pieces (front and back) are still attached to each other in 1/2" squares now.) NOTE: I wanted the soft part of the velcro to be on the chore chart, so I put the sticky back of the rougher velcro portion on the backs of the stars.
The little box that holds the stars measures 3x3x1. I punched the scalloped square out of the front with my scallop punch and used glue dots to adhere a piece of transparency for a window!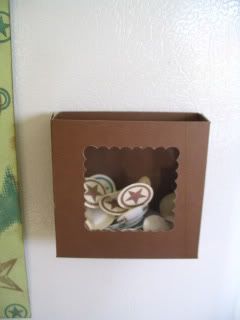 I decided not to draw lines separating the days and chores . . . I figured the velcro pieces would make their own "lines" and it seems to work okay!
If any of you out there have been searching, like I have, for a chore chart, I hope this gives you a place to start in creating your own! I had to think about it for a day . . . make some rough drawings on paper, etc. before I could actually start to create it. But I like the overall end product! I thought about doing magnets instead of the velcro stars, but I'd need a lot of little magnets and, in my house, with my boys, that would just be one more thing to get thrown around and/or lost! So, I'll stick with (no pun intended) the velcro!!
If you have any questions that I didn't already answer above, please post and I'll answer you ASAP! Enjoy!