I've really been slacking on getting pictures printed . . but I finally went and had about 250 pictures developed so I've got some new (older!) photos to work with!
I recently painted and reorganized my scrap room (I'll post photos of my newly remodeled room tomorrow!) so I'm having a ball working in there now. . . it's such a great space!
Anyway . . . here are two layouts I did in the last week . . . the first one is my youngest son (photos were taken in July 2009) . . . I love their dress up photos . . . isn't he so stinkin' cute?!!! :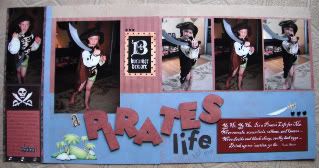 Close up of page one:
Close up of page two:
The second layout is of my oldest son reading to his little brother . . . again, these photos were taken in 2009 so now my youngest son can actually read himself! Better late than never getting them scrapped, huh!?!?! :-)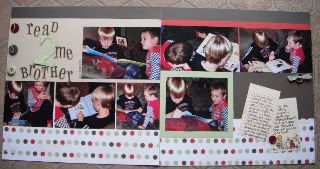 If you get a chance to stop back by tomorrow you can check out my craft space. I'm so excited because I actually set up my sewing machine on a table so I can start stitching on my cards and layouts!!! And I love the new paint color in my craft room . . so come back (better yet, sign up to receive emails of my posts)!
Thanks for stopping by . . .
Jeani