My husband drove down to Oregon last weekend . . he's been researching boats for several months and finally gave in and bought this one! He's like a kid at Christmas!! It's a great boat . . . a 2007 North River. He got home Friday evening from Oregon and we ran outside to check it out . . . this is a photo in front of our house . . .
and Saturday morning we got up and took the boat out to Lake Sutherland for a maiden voyage . . .
The boys had a blast . . . I can't wait to see them when the weather is actually sunny and warm. It was raining lightly on us at the lake, but that didn't stop them from totally enjoying themselves on the new boat . . .
Here's a photo of me and the boys giving Daddy a "thumbs up" on our new toy! :-)
And . . a photo of the inside of the boat. It comfortably seats 6 people . . the 2 front seats have shock absorbers in them, which will be nice out on the ocean when salmon fishing this summer! There is a little room up under the bow that will serve as storage for the downriggers when we're not using them, but will also be a great place to throw a foam pad and a sleeping bag so the boys can crash if they need to while we're out crabbing, shrimping and fishing!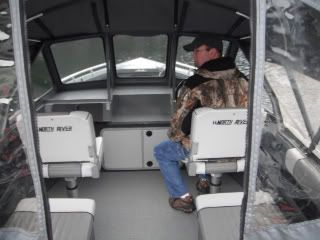 Now I really can't wait for summer!