I got into a little frenzy just before the holidays . . . felt like I needed to start using some of the products I've been stashing for so long! So I pumped out about 12 pages (WOW!!) in about 1 week! I was pretty proud of myself. So, here they are . . .
One Tired Boy - I added a journaling tag underneath the middle picture (you can see the little red ribbon sticking out of the side). Basically, it says that when Joe is tired enough . . he can fall asleep just about anywhere . . . this day he fell asleep on the coffee table/trunk in the living room, wearing his Incredible Hulk costume . . lol . . he is too funny!
New Bunkbeds - my sister and b-i-l made these log bunkbeds for my boys and brought them out to us from Montana last November (2007). They are beautiful and the boys love them! For this layout I used all CTMH products - love that Caprice paper!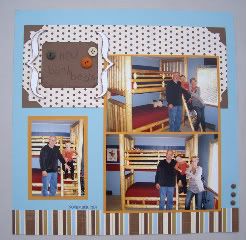 Two Little Monkeys Jumpin on the Bed - my boys love to jump on our bed . . . just had to capture it on a layout . . .and . . I've had this paper for so long I can't even tell you! I cut out 2 of the monkeys and popped them up on the photos . . . !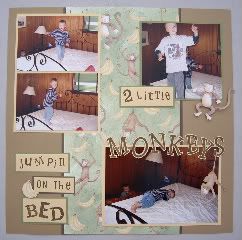 1st Day of Preschool (Little Sprouts) - this was my youngest son's (Joe) first day of preschool last September . . . he is just so stinkin' cute, isn't he? My little lovey . .
I used all CTMH products for this layout - one of my absolute favorite paper packs EVER . . Sarsparilla . .
Here's the full layout:
Left page:
Right page (the quote on the tag says "nobody knows what a boy is worth and the world must wait and see, for every man in an honored place is a boy that used to be."
Halloween 2007 - this was my boys on Halloween year before last . . . .Josh was a great vampire and Joe was a sweet little monkey . . lol . . For this layout I used paper and embellishments that I've had for YEARS!!! Finally dug them out and used them . . .boy that feels good, doesn't it?! Also used some new Papertrey Ink stamps (spider with web and the cat):
Full layout:
Left page:
Right page: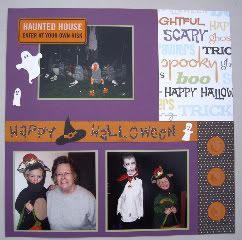 That's it for tonight . . . I'll photo the rest tomorrow, yes, there is more! I have a 2 page Christmas layout, a 2 page "10 things I love about you" layout and a double page layout I'm just finishing of a trip to Ocean Shores last summer. . . .so come back and check them out!
Have a great night . . . happy scrappin'!