Yes, as promised, I finally got my other 3 layouts photographed and uploaded . . here they are . .
10 Things I Love About You
I must admit, I shamelessly copied this layout from another CTMH consultant! Every now and then, don't you see a layout that you JUST HAVE TO HAVE in your album? This was one of those layouts for me. I absolutely loved it and copied it almost exactly (except for the things I love about my sweet little Joey). All products are CTMH: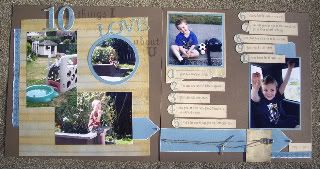 Left page:
Right page:
Christmas 2007
For this layout, I used more products that I've had around for years . . . the paper, stickers, and my quickutz reindeer that I just love but have never used before. I like the way this one turned out:
Left page:
Right page:
Ocean Shores
I really don't like the wave sticker I used on this layout, but it seemed appropriate and I've had it for so long (as I have the cute surfer paper) I just had to get rid of it . . . Other than that, I like the layout . . . I like the colors (not typical for me) and the photos. And I love Ocean Shores . . . so it's hard not to like the layout when I have such great memories.
Left page:
Right Page: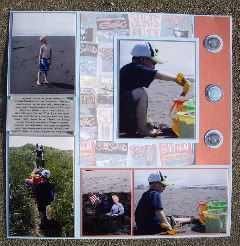 That's it for now . . . I haven't been in "scrap mode" for a while, so it will take me a week or so to get some more layouts put together. But I've been wanting to play with my stamps and take on some challenges for cards . . so keep coming back to see how I'm doing!