I am so excited!! I knew as soon as I saw the Stamper's Sampler in my mailbox yesterday . . .
I had submitted 3 cards to them for a design challenge several months ago. If they publish one of your cards, you get the next magazine free. And, since I don't have a subscription to this magazine, I knew when I saw it in the mailbox that they must have selected one of my cards!
Here's the magazine: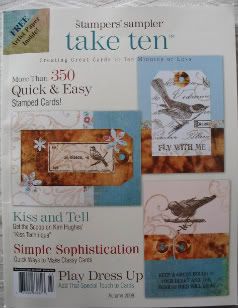 and here's the card they published (on page 18). I was excited that they chose my CTMH card . . .to be honest, I can't even remember what the other cards were! LOL!!
Here's the little write up I had to do about the card . . . it's so exciting to see my name in print in a magazine that I really like! What a thrill! :-)
Okay . . . so now I'm all pumped up and I'm going to make some cards for their new challenge! I'll keep you posted!!